Beer Pairing Book
Sadly, it's been awhile since I've been able to sit down and open up a good book, let alone a book about an industry that I've dedicated my life to. Like any working professional, personal time can be hard to come by, especially as an entrepreneur/family man. So when Julia Herz had approached me to write a review of her new book, I have to be honest, my initial reaction was to muffle the phone, mute every other word, and quickly end the call…later apologizing of course for our "bad connection".
You see, writing a review would actually require me to take personal time and read a book from cover to cover. Whaaat? I'm getting nervous sweats just recalling this. "This isn't normal" I thought to myself internally…I owed it to myself to take the time, not only to help a friend, but to help myself and my personal studies, and it was the best decision I've made in awhile.
Not since 2009 when I was studying for my Cicerone certification and reading Randy Mosher's "Tasting Beer" have I been as excited and inspired from a book. Julia and Gwen take a very whimsical approach with this book, while still "geeking out" and dropping knowledge on even the most knowledgeable of beer enthusiasts.
In order to fully appreciate beer, we must first understand it…and these ladies do a incredible job at helping the reader achieve both. From breaking down beers ingredients and flavor profiles to helping the reader understand his or her own palate, explaining tasting techniques, understanding chemical interactions, to creating your own full-scale beer dinner, I am not sure that I have found a more comprehensive or approachable book that I'd recommend for those simply wanting to learn more about the art of pairing and cooking with beer.
Knowledge aside, Gwen and Julia make this a really fun and enjoyable read, much like Rick Steve makes backpacking across Europe look extremely effortless and achievable. They offer an entire chapter devoted to "Palate trips", a sort of tour-guide for the reader, offering curated examples of suggested pairings for the reader to try, while encouraging and inspiring them to invent their own. They also take moments to pause and interview some of the most respected authors on the subject matter while citing specific techniques from others (e.g. – Garrett Oliver, Lucy Saunders, Sean Z. Paxton, Fred Bueltmann) just to name a few.
Beer friends, this is a must add to your library collection, and it will sit nicely somewhere between your Oxford Companion and Tasting Beer on the shelf. You won't find this book in the "Self Help" section, but it certainly helped and inspired me to get back into my studies, and thankfully, back into the kitchen.
Rob Shellman
Founder/Certified Cicerone®
Better Beer Society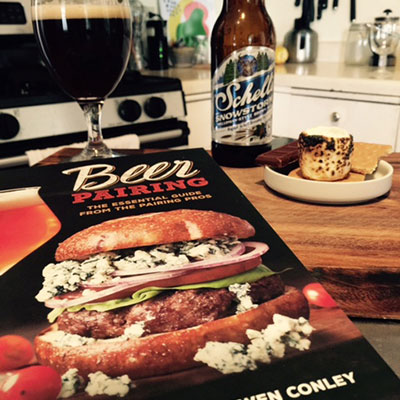 Candied Beer Bacon
Recipe:
Bacon
1/2 cup brown sugar
Stout or Porter
Preset oven to 400 degrees. While waiting, combine 1/2 cup brown sugar with a 1/4 cup (+ 2 tbsp) of your stout or porter in bowl.
Whisk well to form syrup.
Line a baking sheet with aluminum foil and add wire rack. Place bacon strips on rack, overlap if need to. Place in oven and cook for 10 mins. Then, remove "naked bacon" and coat with your beer syrup on both sides, then cook for 10 more mins.
Repeat this process 3x. (30 mins) Let sit for 1 hour to allow for caramelization.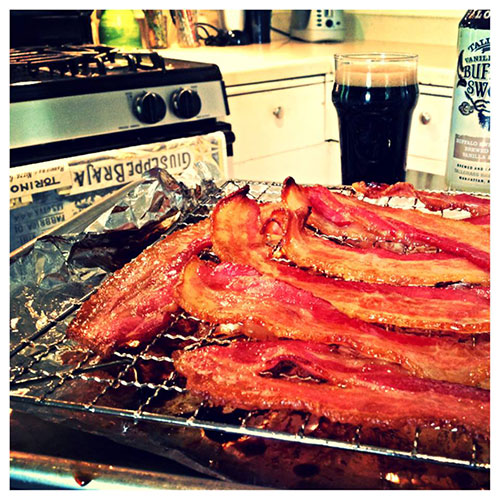 Hop Dogs
Recipe:
1 oz of hop pellets (from local homebrew supply store)
24 oz of Founder's Centennial IPA
4-8 hot dogs
Pour beer and add hop pellets. Let beer simmer in pan for roughly 30 mins.
Finish dogs on grill or grill pan.
The result is a truly wonderful added citrus component to the hot dogs, (think orange citrus & fruit loops). Careful not to leave dogs on too long, as they will become unpleasantly bitter.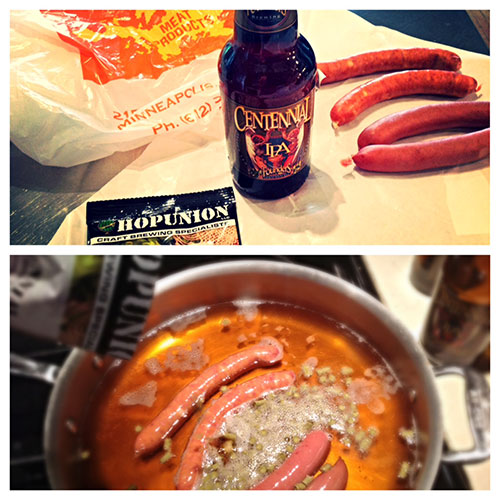 Gueuze Pickle Dip
Recipe:
8 ounces cream cheese (room temp)
1 cup sour cream
6 dill pickle spears, finely chopped
2 tbsp pickle juice
1/3 cup gueuze (your choice)
2 tbsp creamy dill mustard (if you don't have, use regular yellow mustard and add in fresh dill)
1/2 tsp salt
2 tsp dried or fresh dill weed (fresh is always best)
Chop it all up in your food processor (or blender) and pulse until it's the consistency of your liking.
Chill dip for a couple hours and enjoy with some pita chips or veggies.